<!!!!--#exec cgi="/cgi-bin/Generic/SocialCount4th.pl"-->
Greenbelt Tennis Association
FREE
Labor Day Weekend
Tennis Social
Saturday September 1,2007
7:30 am to 2:00 pm
Greenbriar Condominium
Tennis Courts(5)
7600 Hanover Parkway Greenbelt,MD
Directions: Click here.

If you did not indicate an ETA please come at
(or re-signup for) 11:00,10:30,10:00 or later. Or 7:30 am?
There will probably be some Waiting to Play between 9:00 and 10:30
if players come between 8:00 and 9:00 as they indicated.

Start your Labor Day festivities by playing Doubles Tennis at the
Greenbelt Tennis Association's Tennis Social. This informal social
is being hosted at the Greenbriar Condominium Association
Tennis Courts(5) in Greenbelt East.
(GREENBRIAR. NOT Braden Field. NOT Greencastle Rd in Burtonsville.)

Come to play, or just come to watch!
The social is FREE. Non-GTA members welcome.
We'll have bagels, fruit & drinks;
You can bring a dish to share (optional).

Pre-register (so we can get an estimate and so everybody
does not come at the same time) or just show up!
Format: based on number of attendees. Suggestions welcome.
For more information, contact
Emmett Jordan 301-220-1025 or
Rich Majewski 301-595-5744.
(Emails).
Rain Date: Sunday Sept 2, 8:30 am to 2:00 pm.

Sept 1 Social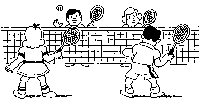 Thank you Attendees:
Michele Adams
Kevin Alexander,Sr.
Susan Anthony-Jung
Tom Baldino
Bob Bassett
Julian Boyce
Gwen Brown
Karen Butler
Tony Carey
Philippe Carrie
Regis Carvalho
Charlene Collier
June Dea
Martha Dodson
George Gillian
Carol Graham
Donna Graham-Harris
Lew Hale
Chris Holland
Dave Huang
Olivia Jackson
Lou Janesko
Renee Jones
Emmett Jordan
Peter Lord
Rich Majewski
Thelda McMillan
Cam McQueen
Avery Miles
Farshid Moghimi
Robyn Morton
Andrea Murray
Lisa Nelson
Margee Nelson
Tim Norris
Remell Palmer
Carmena Parris
Pattie Patrick
Marlene Paucar
Roberto Paucar
Bhanu Rajput
Sam Sain
Sandra Robinson-Redway
Larry Rothman
Ava Singleton
Rita Stevens
C.Stokes
Robert Toney
Francine Walden
Stuart Washington
Steve Waterbury
Michael Wong
William Wong
Lisa Yanguas
Stanley Zirkin